As noted in our "Biofilm: How to prevent and eliminate it" bulletin, the regular flushing of drinker lines is a key management practice for keeping biofilm and its harmful effects (see Biofilm: What it is, what it does) in check. Flushing is also very effective in removing air pockets in the line (see "Air pockets in drinker lines" below).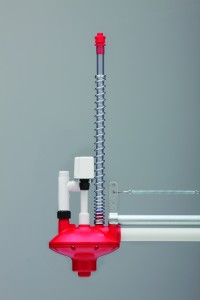 To make flushing easier and less time consuming, producers should consider equipment that will automatically flush lines on a set schedule, such as Ziggity's solenoid regulator designed for unattended flushing. By facilitating flushing in this way, producers will flush drinker lines more often and reap the benefits of doing so.
Here's how it works:
A controller or timer sends a signal to the solenoid regulator to start and maintain a flush mode for the number of minutes necessary to achieve a thorough line flush. The regulator allows water to bypass the pressure reduction mode and deliver both high-pressure and high-volume water directly into the drinker line. An automatic end assembly and drain set up at the opposite end of the line discharges the water.
For poultry houses with many regulators, automatic flushing can be a real time saver as well as helping to reduce or prevent biofilm proliferation in the first place, thereby ensuring a more hygienic water system. For further recommendations on managing biofilm click here.
Air pockets article reference:
Eliminate air pockets in drinker lines
Air pockets have the potential for blocking or limiting the flow of water through the drinker lines, creating a situation where the birds peck the drinker but no water discharges. This has the potential for harming production, and in extreme cases, could result in mortality. Air pockets form when water in the drinker lines releases air as the water warms or there is a loss of water pressure. If the air pocket, commonly referred to as air lock, becomes sufficiently large, it can restrict the amount of water that flows to the rest of the line. This results in the birds drinking the line dry in places, creating more air in the lines.
The solution for eliminating air pockets is high pressure flushing that forces excess air from the system. This not only keeps air pockets from becoming a problem but flushes out any accumulated sediment and biofilm. So by high-pressure flushing you can help prevent/eliminate biofilm and purge air pockets from drinker lines.